Top 9 Carnivore Diet Breakfast Ideas to Help You Start the Day Strong
We include products in articles we think are useful for our readers. If you buy products or services through links on our website, we may earn a small commission.
Top 9 Carnivore Diet Breakfast Ideas to Help You Start the Day Strong
Breakfast is a notoriously high-carb meal with the likes of croissants, muffins, bagels, oatmeal, pancakes, and cereal. But on the carnivore diet, breakfast, like every meal, is virtually a zero-carb affair.
Yet, there are still plenty of creative, delicious, meaty breakfast options that can support the carnivore diet's health benefits, like weight loss, increased sex drive, and reduced inflammation.
In this article, we'll explore some of the best carnivore diet breakfast ideas to help you start the day off on the right foot. Let's dig in and discover the surprisingly various world of carnivore diet breakfast!
1. Carnivore Breakfast Sandwich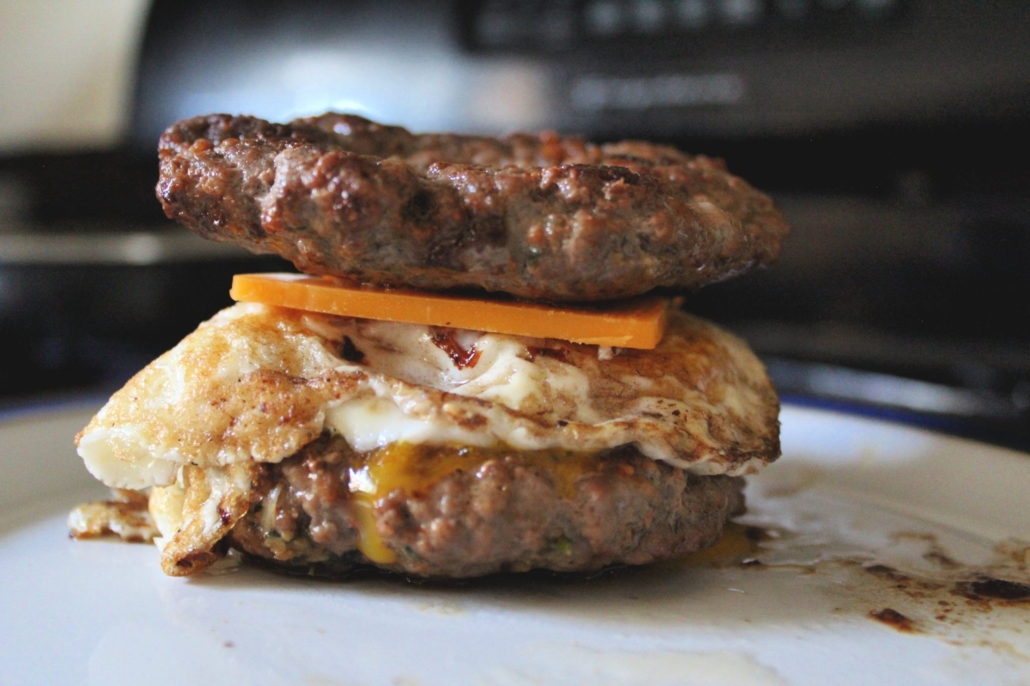 The carnivore diet breakfast sandwich is packed with protein, healthy fats, and key vitamins and minerals like zinc, vitamin B, choline, and vitamin K2– in short the vital nutrients that help make going carnivore so beneficial.
This 448 calorie recipe provides 36 grams of fat and 33 grams of protein. So if you're eating only twice a day, as many carnivore dieters do, you may want to double it.
That said, when you're savoring this carnivore diet breakfast sandwich, you'll be so entranced by the savory umami experience that is crisp bacon, sharp cheddar cheese, and a runny egg, nestled between two juicy sausage patties, you won't be thinking about any of the tech specs
Ingredients list:
Beef patties

Eggs (pasture-raised if possible)

Cheddar Cheese

salt
You can follow the full carnivore diet breakfast sandwich recipe from Health Home and Happiness.
2. Carnivore Fat Bomb Fluffy Egg & Cheese Muffins
Carnivore Fat Bomb Breakfast Recipe from Ash Eats
Macronutrients per batch: 122g fat | 108g protein | 0g carbohydrates
Yes, believe it or not, you can get your muffin fix on the carnivore diet! And we have innovative animal-based chef Ashley Rothstein to thank.
Ashley developed her recipes using carnivore, keto, and paleo principles to overcome a host of debilitating health issues.
These delectable muffins only require 3 simple ingredients. These guilt-free muffins offer a light and crispy texture which is rare when eating only dense animal products like meat and cheese.
These carnivore diet breakfast muffins also store well, making them great carnivore diet snacks.
Ingredients:
You can find the full free Carnivore Fat Bomb Muffins recipe at Ash Eats.
3. Two-Ingredient Carnivore Pancakes
Photo: Minimalist Eating
If you thought the three-ingredient muffins above were simple, try these two ingredient carnivore diet breakfast pancakes.
And like the muffins, these pancakes can be enjoyed at any time of the day. Add in some shredded beef, and they double as a carnivore diet wrap.
This ingenious recipe was developed by pioneering carnivore enthusiast Kat of Minimalist Eating. It's part of an eating plan that helped her overcome hypothyroidism and an autoimmune low blood platelet disorder.
Ingredients:
4-8 ounces of cream cheese

4-8 eggs
Follow the complete Carnivore Pancake recipe here.
4. Carnivore Diet Breakfast Tacos
Carnivore tortillas stuffed with beef and cheese? Yes please!
Here's another recipe inspired by Ash Eats. The faintly crispy and surprisingly foldable tortillas are made from pork rinds. Load them with ground beef, shredded beef, ribeye steak. Or go old-school with scrambled eggs and bacon.
Ingredients
Eggs

Pork rinds

Grass-fed ghee, butter, tallow, or lard

Sea salt

Water

Steak, shrimp, fish, and/or bacon

Sour cream

Cheddar cheese, or blue cheese
After you make the tortillas, simply add in meat (ribeye is incredible in these) and scrambled eggs, and top with sour cream and cheese.
12-15 Tortillas: 64g fat | 140g protein | 0g carbohydrates
Follow the entire tortilla recipe here.
5. Keto Carnivore Waffles
The "paffle" recipe from Keto Focus
Who knew pork rinds were such a great stand-in for grains? They even make fantastic carnivore diet breakfast waffles.
Well, officially it's called a "paffle". P for pork, get it? Load it with butter and you'll get some much-desired crisp with a rich, salty finish. Yum!
Ingredients:
Eggs

Ground Pork Rinds

Mozarella Cheese

Salt
Follow the full recipe here: Keto Carnivore Waffle
6. Egg in a Hole/Frame/Basket/Nest–Whatever you call it
Carnivore Egg-in-a-Hole: Primal Edge Health
Ditch the bread, and usher in a healthy helping of ground beef–the fattier the better.
In the UK, these are also known as scotch eggs.
This carnivore diet breakfast recipe is quick, easy, and delectable, especially when you leave the egg runny and get a good crisp on the beef.
Ingredients:
Instructions:
Preheat the oven to 350°F (175°C)

Line two baking sheets with parchment paper

In a large bowl combine beef or pork and salt in a large bowl

Mix ingredients together and form into 12 meatballs–using your hands works best

Place six meatballs on each sheet

Press the meatballs flat

Place one boiled egg in the center of each flat meat circle.

Wrap the meat around each egg–use care to close up all gaps or holes

Bake for 10-15 minutes–until the top appears cooked

Flip each ball and cook for another 10 minutes
To make them crispier place under a broiler for 5 minutes. To add more complex flavor, top it with creamy blue cheese and broil.
7. Carnivore Breakfast Pizza
Carnivore Breakfast Pizza Recipe from LowCarb Abode
Pizza and the carnivore diet. How many of you thought you'd never hear these two terms together?
It's based on a 3-ingredient carnivore flat "bread" and topped with bacon, cheese, and mozzarella. Crack a couple of eggs on it while baking and you're in carnivore diet breakfast heaven.
Ingredients:
1 Carnivore Flatbread

Sour Cream

Heavy Cream

Shredded Mozzarella Cheese

Bacon

Optional: Garlic and Salt
Follow the recipe in full at Low Carb Abode.
8. 3 Ingredient Carnivore Custard
So easy, yet so satisfying. But I guess you could say the same about most carnivore diet meals.
This carnivore diet custard is great for breakfast and any time of day. It's even wonderful serve cold.
Ingredients:
Follow the full recipe over at Primal Edge Health
9. Carnivore Quiche
No doubt one of the richest and most satiating breakfast foods before begging "carnivorized" this all-animal breakfast quiche is one of the most satiating meals we've ever tried.
This recipe was perfected by our friend and keto-carnivore master chef Maria Emmerich
Ingredients:
Crust
1 ¼ cups powdered pork rinds

1 ¼ cups freshly grated Parmesan cheese or hard Gouda cheese

1 large egg
Filling
1/2 cup chicken broth or beef bone broth, I used Kettle and Fire

1 cup Swiss Cheese grated or Muenster cheese

4 ounce cream cheese

1 tablespoon butter melted

1/2 cup diced ham

4 large eggs beaten

1/2 teaspoon sea salt
You can follow Maria's full recipe here.
Carnivore Diet Breakfast: The Bottom Line
Though a diet based on animal products may sound restrictive, the carnivore diet breakfast is actually one of the most creative all-meat meals of the day.
Pancakes, waffles, tacos, and quiche are all fair game when it comes to the talents of creative carnivore chefs.
But you don't have to be a great cook to whip these up. Just strap on an apron and follow along to start off your ancestrally aligned day.