Top 20 Irresistible Carnivore Diet Recipes
We include products in articles we think are useful for our readers. If you buy products or services through links on our website, we may earn a small commission.
Top 20 Irresistible Carnivore Diet Recipes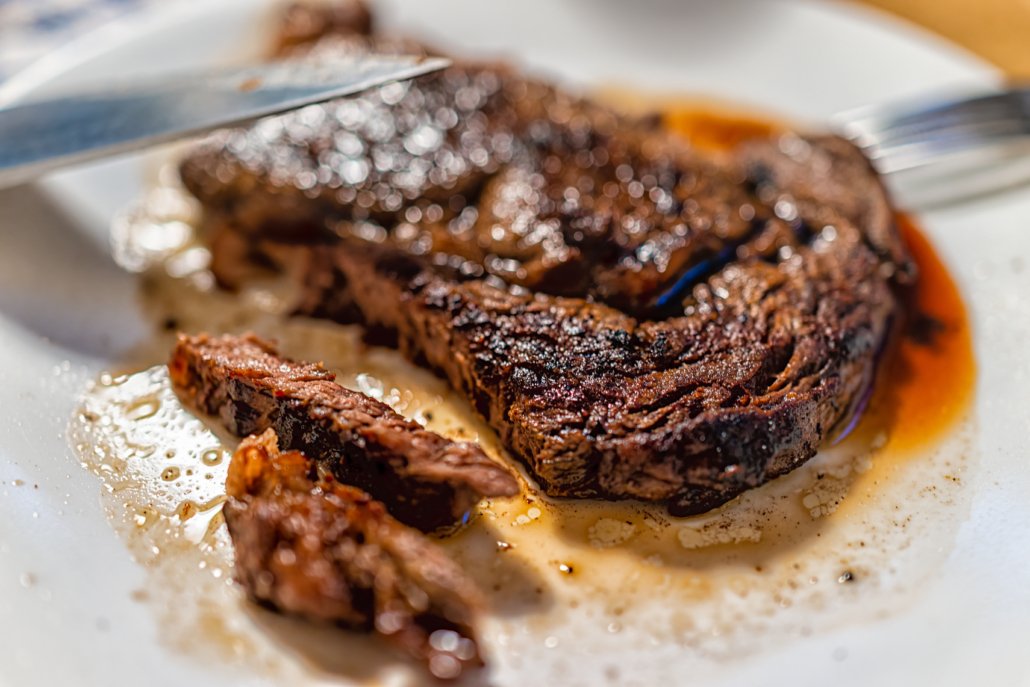 Whether you're new to the carnivore diet and looking for great starter recipes or you're a long-time pro aiming to get some fresh ideas, you've come to the right place! These 20 irresistible carnivore diet recipes are as packed with nutrients as they are delicious.1 2
What is the Carnivore Diet?
The carnivore diet entails eating 100% animal-based foods. That means no veggies, fruits, grains, sweeteners, nuts, or seeds.
A strict carnivore diet eliminates herbs and spices, so you'll find a few recipes below that list some ingredients as optional.
The carnivore diet can be understood as an ancestral diet. Studies show that our modern physiology is the product of nearly 2 million years of evolution during which humans were hyper-carnivorous apex predators. It wasn't until only 10,000 years ago–a mere flash in the pan–that humans shifted from meat-based hunter-gatherers to settling down and cultivating plant foods. The results for human health have been a disaster. 2
Health Benefits of Carnivore Diet Recipes
By cutting out plant foods, a carnivore diet eliminates irritating plant toxins and antinutrients. Compounds like phytates, phytohormones, and oxalates can damage the gut, imbalance hormones, and contribute to systemic inflammation.
Studies show that following a carnivore diet can be especially beneficial for autoimmune disorders.
In addition to tackling chronic inflammation and restoring gut health, the carnivore diet can improve various markers of overall health and well-being including 2 3 2 3 4:
Increase insulin sensitivity

Mental clarity and stable mood

Increase fertility,

testosterone

, and libido

Manage weight and improve bone health
Now let's dig into the recipes!
1. Perfectly Seared Ribeye Steak with Grass-Fed Butter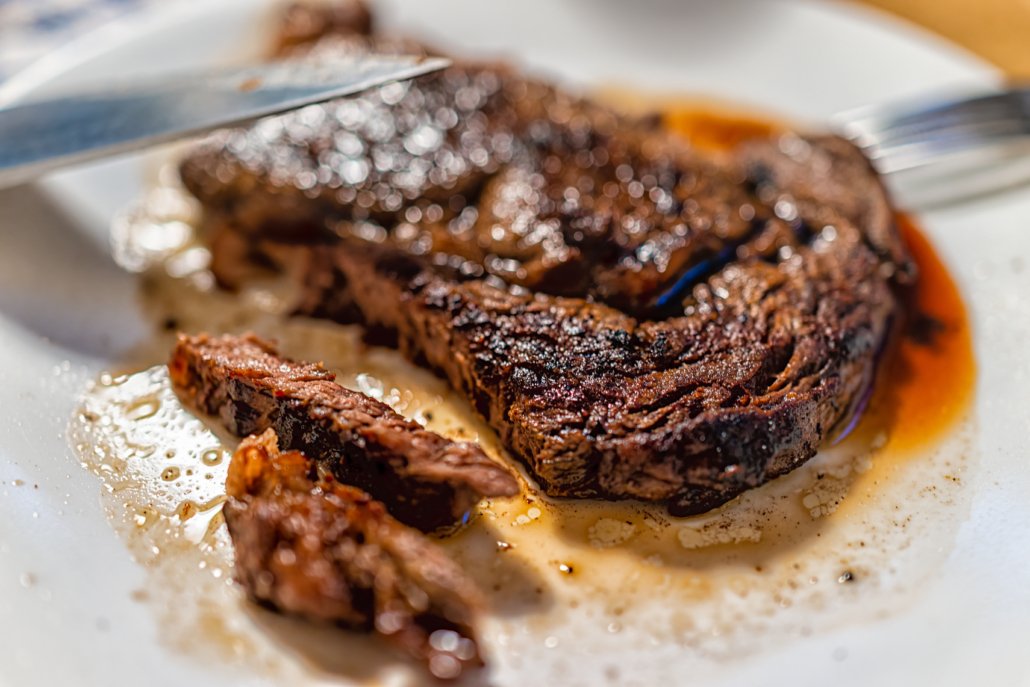 This carnivore recipe is not to miss! The salty, buttery finish so beautifully complements the rich flavor of the ribeye. If you haven't tried this staple pairing, you're in for a life-changing level up.
Ingredients:
16 oz. ribeye steak

2 tbsp grass-fed butter

salt

Pepper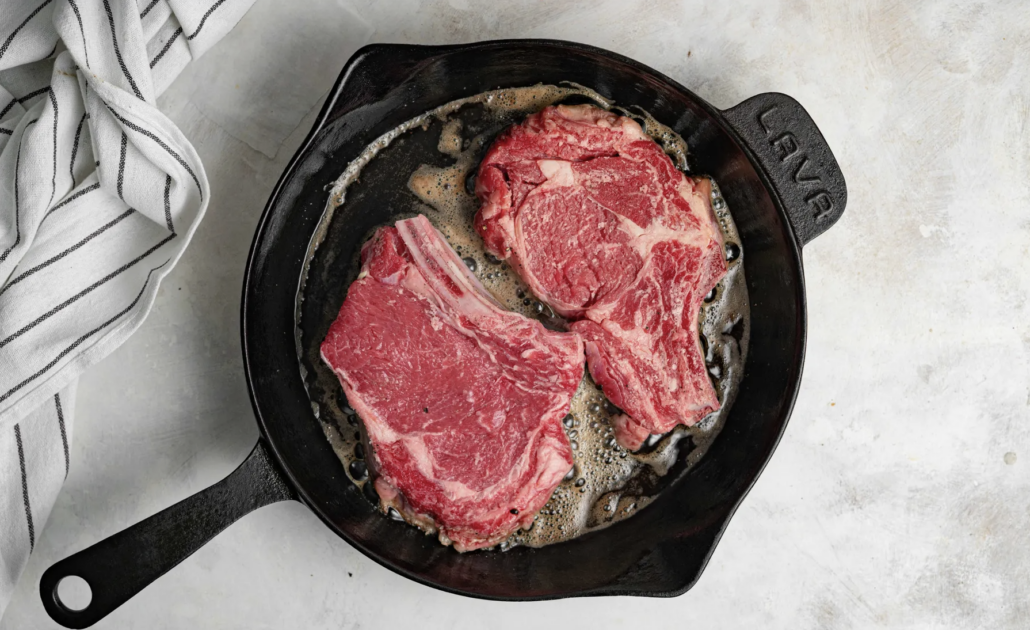 Follow along with a few easy steps here.
Below, you can also cook along with Dr. Kiltz as he demonstrates his own seared ribeye recipe.
2. Easy Air Fryer Carnivore Meatballs
This is a super kid-friendly meal that is fast and simple. Enlist your family to help with prep for the added benefit of some good quality time, and enjoy!
Ingredients:
2 lbs.

grass-fed ground beef

2 large eggs

2 oz. pork rinds

3 oz. shredded Italian cheese blend

1 tsp. sea salt

1 tbsp lard or tallow
Follow along with the instructions here.
3. Keto Carnivore Waffle
If you're new to the carnivore diet, waffles may be a sorely missed breakfast treat. Fret not! This recipe hits the spot with its satisfying crisp and savory notes. Welcome your weekend waffle 2.0!
Ingredients:
1 egg

½ cup ground pork rinds

⅓ cup mozzarella cheese

pinch of salt

butter (optional)
Check out the super simple instructions at Keto Focus.
4. Carnivore Beef Liver Pancakes
The health benefits of beef liver are immense. Liver is an almost unbelievably potent source of vitamin A, and various B vitamins. These stackable pancakes will be sure to turn some heads in the kitchen. If you build it, they will come…and get nutritionally-replete!
Ingredients:
3 oz. raw beef liver

3 eggs

3 tbsp. melted ghee

few dashes of sea salt
Discover the recipe for your new favorite breakfast dish here.
5. "Meat Lovers" Carnivore Pizza
Who said pizza was off-limits? This hearty carnivore recipe is a great game-day fix without any of harmful added sugars or carbs. Make sure to grab a slice while it's hot!
Ingredients:
Pizza Crust –
1 lb. ground chicken or turkey

3 eggs

5 oz. pork rinds (pre-ground)

1 tbsp grass-fed ghee

¼ tsp sea salt
Toppings –
8 oz raw cheese

10 pieces bacon

1 lb. ground pork

8-10 slices pepperoni

sea salt, to taste
Equipment –
food processor

parchment paper

pizza stone (optional)
Follow along with the whole recipe at Ash Eats.
6. Succulent Braised Short Ribs
These tender yet perfectly seared short ribs take a bit longer than some of the other recipes here, but they're seriously worth the wait.
The recipe calls for a Dutch oven that helps cook the meat evenly. If you don't have one, it can make a great addition to your kitchen gear, or take this as an opportunity to collaborate with a friend or neighbor who has one. Make a dinner date out of it!
Ingredients:
4 lbs. short ribs (about 8 ribs)

generous amount of salt for seasoning

2 cups chicken broth

2 tbsp. tallow or similar cooking fat
Find the full recipe and instructions here.
7. Carnivore Egg Pudding
This easy Keto egg pudding "dessert" is one to plan ahead with so that the pudding has time to set. But it's oh so satisfying and packed with nutrients like Vitamin D and protein. Each bite is an ode to your health!
Ingredients:
5 soft boiled eggs, peeled

4 oz. half and half

1 tbsp. Grass-fed butter, softened

2 ½ tbsp Keto sweetener (optional)

1 pinch salt
For full instructions, check out Carnivore Diet.
8. Classic Organ Meat Pie
Another savory breakfast idea, this delicious meat pie is a great way to start the day. Nourish your body with the rich vitality-boosting nutrients provided by beef heart and liver.
Ingredients:
½ lb. ground beef

½ lb. ground beef heart

½ lb. ground beef liver

1 tbsp beef tallow or ghee

3 eggs

½ tsp. salt
Check out the full recipe at Primal Edge Health.
9. Oven-Roasted Bone Marrow
This delectable carnivore recipe is by far the easiest showstopper on the list. These roasted marrow bones are super immune boosting and rich in calcium, making them a great addition to your weeknight rotation.
Ingredients:
4 marrow bones

Salt to taste
Instructions:
Fill a large bowl with cold, salted water.

Add the marrow bones and refrigerate for 12-24 hours.

Drain the bones and pat them dry. (Be sure to roast the now-soaked marrow bones within 24 hours.)

Preheat your oven to 450°F.

Place the marrow bones on a roasting pan and roast for 15-25 minutes. Look for the marrow to start puffing slightly.

Test to see if the marrow bones are done by sticking a metal skewer into the center of the bone. Remove the skewer and quickly touch it — it should be very hot.

Serve the roasted bone marrow right away and enjoy!
10. Grass-fed Beef Liver Chips
Looking for a superfood carnivore snack to hold you over until your next meal? Look no further than these carnivore beef liver chips that satisfy that crispy crunch craving and pair perfectly with a carnivore-friendly sauce of your choice.
Ingredients:
1 lb. beef liver, ground or thinly sliced
Follow along with the full recipe at Primal Edge Health.
11. Carnivore Diet Breakfast Sandwich
This essential carnivore recipe will add happy vibes to your next breakfast. Stacked with flavor and truly nothing short of the perfect animal-based sandwich, give it a try with the full recipe here. You'll thank us later.
Ingredients:
2 sausage patties

1 egg

1 oz. cheddar cheese

1 tsp. ghee
12. Carnivore Steak Nuggets
Tender and delectable, this is the perfect recipe for a hearty, mouthwatering movie snack.
Ingredients:
1 lb. venison steak or beef steak, cut into chunks

1 large egg

lard for frying
Keto Breading –
½ cup grated parmesan cheese

½ cup pork panko

½ teaspoon salt
Get cooking with the full recipe and instructions at Health Starts in the Kitchen. Optional keto chipotle dipping sauce included.
13. Grass-Fed Beef Stroganoff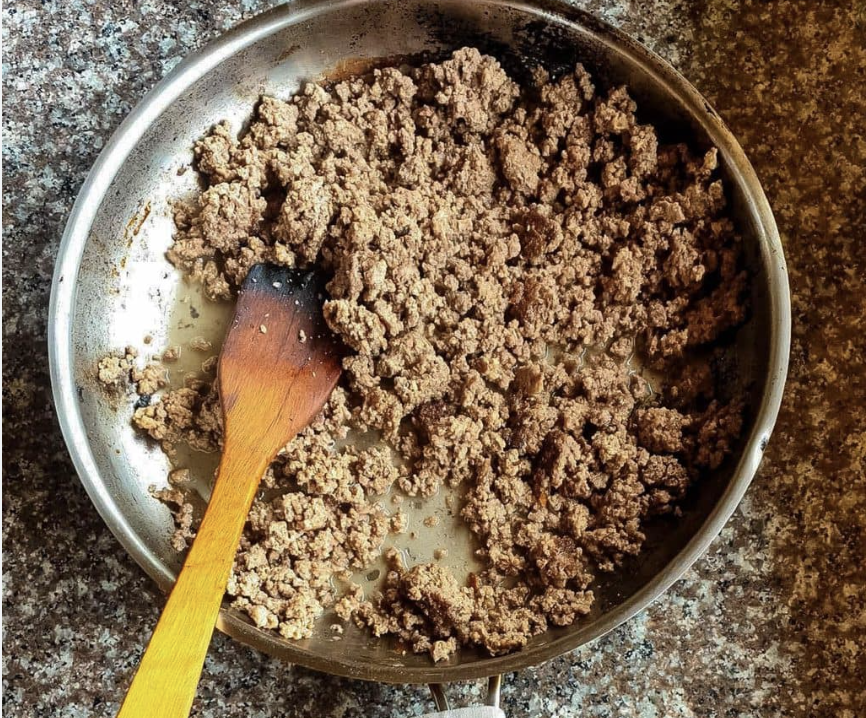 A cozy classic, this carnivore beef stroganoff recipe is perfect for cool evenings.
Ingredients:
1 lb. grass-fed ground beef

1 cup beef bone broth

¼ cup heavy cream

1 tsp. salt
Don't miss out on the simplicity of this tasty dish. Follow the full recipe here.
14. Perfectly Grilled Lamb Chops
High in vitamin B12 and heart-healthy Conjugated Linoleic Acid (CLA), lamb is a succulent centerpiece for any meal. These lamb chops have delicious flavor from the grill, but can also be prepared on the stovetop with a brief sear on each side.
Ingredients:
8 bone-in lamb rib or loin chops, cut 1 ¼ inch to 1 ½ inch

2 tbsp. olive oil

2 tbsp salt

freshly ground pepper to taste
Find the recipe at Serious Eats and enjoy!
15. Chicken Liver Pate
A classic approach to nutrient-dense chicken liver is making a smooth, creamy pate that is great for dipping pork rinds or to slather over a grilled steak.
Ingredients:
1 lb. pastured chicken livers, trimmed

⅓ cup grass-fed butter or ghee

½ tsp. sea salt

1-2 tbsp parsley or herbs of choice (optional)

2 tbsp. melted grass-fed butter or ghee
If your mouth's beginning to water and you want to give it a try, check out the recipe at Primal Sam.
16. Smokey Bacon-Wrapped Chicken Thighs
Not only revered for their outward beauty, smokey bacon-wrapped chicken thighs are absolutely delicious. These are a fun and easy way to make a memorable carnivore dinner.
Ingredients:
8 boneless skinless chicken thighs

Kosher salt to taste

Freshly ground black pepper

8 pieces of bacon, thinly sliced
Full recipe linked here.
And if you're looking to dunk these morsels in a scrumptious dip, check out our article on carnivore diet condiments here.
This liver dish is loaded with essential minerals that boost immunity and keep your energy going throughout the day.
Easy to serve up for dinner or a cold breakfast. You can even freeze these little powerhouse meals for later.
Ingredients:
1 lb. ground beef

¼ lb. beef liver ground

4 eggs

1 tbsp beef tallow

1 tsp. salt

1 tbsp. herbs de Provence (optional)
Follow along with this recipe here.
18. Savory Brisket Queso
If you have leftover brisket in the house, this recipe is a no-brainer. Enjoy with pork rinds or beef liver chips for dipping.
Ingredients:
1 cup finely chopped, cooked brisket

¾ cup heavy cream

8 oz. manchego cheese, grated
Optional –
1 pinch dried oregano

½ tsp. ground cumin

¼ tsp. garlic and onion powders
Follow along with this epicly delicious recipe here.
19. Carnivore Home Cooked Mac N' Cheese
Crispy, creamy, irresistible carnivore mac and cheese. A homemade favorite!
Ingredients:
For the "breadcrumbs" –
2.5 oz. pork rinds, ground

2 oz. shredded parmesan cheese
For the "mac" –
2 eggs

1 lb. ground chicken

grass-fed ghee (for pan-frying)

sea salt, to taste
For the cheese sauce –
6 oz. cheese

1 cup milk or cream

2 tsp. yellow mustard (optional)

1 tbsp. fresh lemon juice (optional)

sea salt, to taste
Give this one a try by following the recipe link at Ash Eats.
20. Carnivore Scotch Egg
A nutritional dish that can be eaten any time of day, the scotch egg is a pub food classic that can be made easily in the comfort of your own home. Be sure to make enough for everyone!
Ingredients:
6 large eggs

1 lb. ground beef

½ tsp salt

½ tsp. black pepper
Optional –
½ tsp garlic powder

½ tsp. onion powder

½ tsp. paprika
Follow the entire recipe at the Carnivore Diet Coach.
Top 20 Irresistible Carnivore Diet Recipes: The Bottom Line
Though a carnivore diet may at first seem limiting, there is no shortage of creative ways to make the carnivore diet fun and creative. From breakfast sandwiches and hidden liver muffins to classic ribeye and braised ribs, we've got you covered.
These carnivore diet recipes will add variety and excitement while providing an unmatched abundance of vital vitamins, minerals, healthy fats, and complete proteins that only animal-based eating brings. Reclaim your metabolic health and overall well-being one dish at a time.